Sadie Ralston and Dorothy Ralston Manchester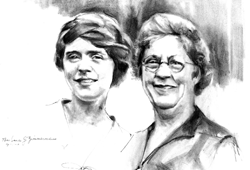 The Sadie Ralston and Dorothy Ralston Manchester Endowed Scholarship was established with a bequest by Dorothy Ralston Manchester '32, in loving memory of her mother, who sacrificed so that she might receive a college education and in some small part change her world. Dorothy spent her entire professional years as a dedicated, compassionate teacher of English literature. Her favorite motto was the creed by which she lived:

"A hundred years from now it will not matter what your bank account was, what kind of a house you lived in, or what kind of a car you drove. However, if you impacted the life of just one child, you will have made a difference."