Tom & Dede Gregory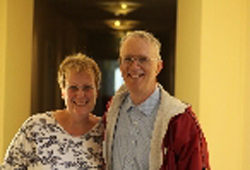 Too often labels are applied to relegate a person to a lesser position in order to elevate another, an idea or a position. However, when it comes to describing Dede and Tom these two words are a most excellent beginning. Deirdre Mason Gregory '81, high school guidance counselor in the Mansfield School District and her husband, Dr. Thomas Gregory, Associate Professor of Math at OSU Mansfield, have dedicated their lives to others professionally and personally. Their giving of themselves on a daily basis to students and those with whom they come into contact, has extended to the Ashland campus when they have made a second generation commitment to its future. Not only did Dede's parents commit to being Founders through a bequest from Richard's estate but so have Tom and Dede.

One day a number of years ago, Dede discovered her father's name on the Founders Display in Founder's Hall and inquired how she could add her name as well. Dede and Tom placed Ashland in their estate plans over eight years ago and began what has been an incredible commitment to Ashland "in the present." Dede has completed the term of one member plus serving two full terms on the Alumni Board, including being its president and representative to the Board of Trustees for three years. A cancer survivor, Dede never let her illness deter her dedication to seeing the job was done and done well, including serving on the College of Education Building campaign. Tom has been a supportive friend of Ashland in every way and has graced many of our events with his incredible talent as a pianist. Dede and Tom's efforts often are in supportive roles, always adding the touch that makes things successful. When the Gregorys travelled to Europe this past summer with the Alumni group as a part of their love of travel, it was their presence that added so much to the enjoyment of the others. Dede and Tom serve unselfishly their church, their community, their professions and especially Ashland University with their time and their resources – what an awesome couple.

Click Here to review sample bequest language.