Richard G. '50 and Bonita L '50 Ronk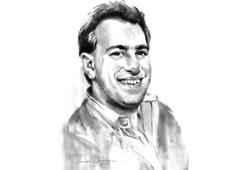 Richard G. '50 and Bonita L '50 Ronk are two very special Eagle Emeriti who met at Ashland University and have maintained a close relationship with and deep commitment to Ashland University throughout their lives together. Bonita spent the greatest majority of her elementary school teaching career in the Ontario Schools and Dick, his, working for Westinghouse as Director of Purchasing and Materials Management, as well as being an active real estate broker. Their love of A.U. football was born during their collegiate days and was encouraged by Fred and Ruth Martinelli moving in across the street as both couples were starting their careers and living in Bellville, Ohio. Dick and Bonita have exchanged their Community Stadium seats to those on the front row at Jack Miller Stadium and you will find them there at almost every home game, even in the coldest and wettest days. But it is not just football that drives their passion for Ashland University.

After the tragic 1991 mid-air-collision death of their only child, Rick, who left behind a wife and baby daughter, they began an endowed scholarship fund in his memory, awarded to Richland County students attending A.U. and then committed the majority of their estate to Ashland University. This commitment was anchored by their naming the Ronk Lecture Hall in the Schar Education Building in Rick's memory. Dick and Bonita continue to be active in their Mansfield and Florida communities in spite of Bonita's battles with cancer and a stroke. Always, they are looking how they can involve their friends in the Ashland University community – from referring names of prospective donors to holding Bonita's Red Hat Ladies meeting on campus and on to inviting and promoting special Ashbrook Lincoln Day addresses the past three years in the Villages, where they live during the winter. Dick and Bonita are truly part of the foundation of our Founders Society and the University at large. Thank you for being such incredible good will ambassadors for Ashland University and excellent examples with your generosity and personal involvement.